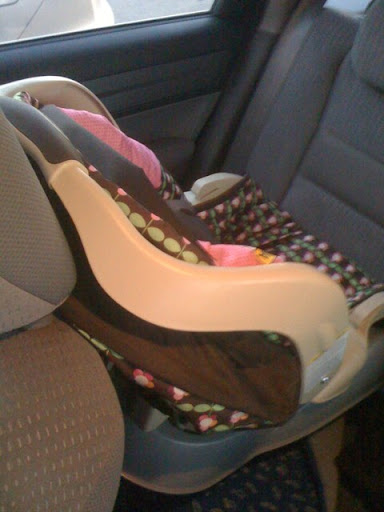 I figured out how to post pictures from an iPhone! I'm so excited, because that means I can post a picture tomorrow once she's ours! And like you need me to tell you, but that's the car seat. So exciting!
We're in Georgia, and have been for a while. About four-and-a-half hours and 302 miles left to go tonight.
Today has been spent on the phone once again and I love it! It's been wonderful updating all my friends and every time I talk about it, it seems a little more real! Poor Ryan has to hear the same conversation over and over, although when I asked if he was sick of it he said he could listen to me talk about it all day. How sweet is that? It's got to be better than listening to me cry and complain like he has done for the last five years.
So tomorrow we'll have three more hours to drive, we'll sign paperwork, then go to the nanny's to meet baby girl. That's when we'll hand over the money and she'll be ours! Sorry if I've already posted that. I've talked about it so many times that I'm not sure what I've told to who!
And good news - the check has made it to it's destination, or at least to the post office there. Our friend R will pick it up in the morning and drive it an hour to us. I am still blown away by the generosity of everyone!
That's it for now. I'll post again soon!